Playing Bunco
How to play Bunco when you're surrounded by your family and close buddies on a picnic, or you're bringing friends together for a game night, all you need is a set of dice to open up a whole new world of gaming potential.
Bunco is a social dice game that is not only simple but actually a lot of fun. Regardless of whether you're a kid or an adult, everyone can enjoy Bunco. Players just roll dice and accumulate buncos. This game is easy to learn and fun to play.
Read on to learn how to play Bunco!
Players required: 12 or multiples of 4 Age: 4 and up Skills required: Counting and simple math
Setting up 3 dice 1 game bell Score pad Tables
Directions for play Bunco is played in two to four sets, with 6 rounds in each set. The players are divided into groups of 4. The objective is to have the highest score at the end of six rounds of play. The game starts when the player at the head table rings a bell. During the game, players at each table take turns and roll the 3 dice to earn points. All tables play at the same time, simultaneously. Each round associates to a number on the dice. For each round, players attempt to roll the same number as the number of the round. For example, three 1s in Round One, three 2s in round Two, and so on.) When the team at head table reaches 21 points, the round is over. The players at head table ring a bell to signal that the round is over. At the end of every round, partners and tables are switched. At the end of a game, there might be multiple winners. The player with the most Buncos wins. Winners may earn prizes for their victory. Playing all the round 6 completes one set of the game.
Bunco Rules Change partners in every round. This makes the game more lively. For every number rolled that matches the round number, one point is awarded to that player. If you roll two-of-a-kind, you earn 2 points. If someone rolls 3 of kind, he or she is awarded 5 points. If someone rolls 3 of a kind of the target number, that's a win or "bunco!" The player will get an instant 21 points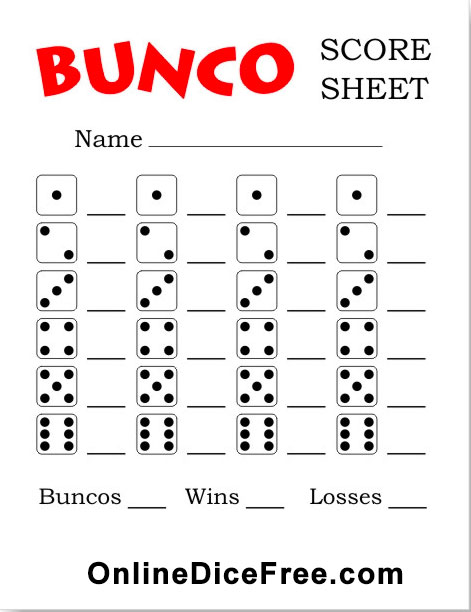 Download or print your Bunco Score Cards
[Download] Bunco Score Sheets as CSV Sheet (csv )
[Download] Bunco Score Sheets as Execel Sheet (*.xlsx)
[Download] Bunco Score Sheets as PDF (*.pdf)